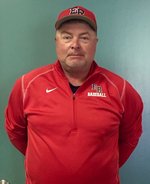 Coach Steve Renfrow
Coach Steve Renfrow, a Jackson native and Belhaven University graduate, has been named the new Head Fast-Pitch Softball and Head Baseball Coach at East Rankin Academy.
After an outstanding career as a baseball player at Jackson's Wingfield High School while playing for legendary Coach Willis Steenhuis, and then at Belhaven University, Coach Renfrow has coached at both the college and high school level for 20 plus years. He was head baseball coach at Clarke College, Jackson Academy, Oak Hill Academy, and Indianola Academy. Coach Renfrow started the fast-pitch softball program at Gulfport High School, while serving as Gulfport's head baseball coach and director of the physical education program at Eastward Elementary on the Mississippi Gulf Coast.
Coach Renfrow is a member of the National Association of Baseball Coaches, the Mississippi Association of Coaches, and the Crossroads Diamond Club. Prior to his coming to East Rankin, where he assisted in both the Softball and Baseball programs this past year, Coach Renfrow has been the General Manager in charge of all day-to-day operations of Jackson's Smith Wills Stadium. Coach Renfrow has been named MAIS Coach of the Year, the Clarion Ledger Metro Coach of the Year, and has also coached several All-Star Teams as well as the Olympic State Games of Mississippi. He is a member of the MS Semi-Pro Baseball Hall of Fame and was selected the Teacher of the Quarter in the field of Health and Physical Education by the Gulfport School District.